14th Annual Sons of Ireland Polar Bear Plunge Beneficiary
Stephy's Place was the beneficiary of the 14th Annual Sons of Ireland Polar Bear Plunge which raises money for local charities. This year 10,000 people attended the Plunge on January 1 at the Asbury Park Boardwalk. Stephy's Place received a generous $18,000 — a record amount.
Stephy's Place is a nonprofit organization which offers support services to anyone suffering from grief and loss. Currently, Stephy's Place offers 14 support groups weekly. Some of the current groups include: loss of spouse, loss of parent, loss of a child and loss due to suicide. They will soon be starting groups for loss of sibling and loss of pregnancy. New groups are also forming to support caregivers. Stephy's Place also offers mindful meditation 4 times a month. All their services are free of charge.
All groups meet at Stephy's Place located at 210 West Front Street, Red Bank. The Stephy's Place motto is: "Anyone who has suffered the loss of a loved one should not have to navigate the journey alone." The meeting space is beautifully decorated, warm and inviting to make everyone more comfortable.
For more information please visit www.stephysplace.org or call 732-614-1142 . You can also follow Stephy's Place on Facebook.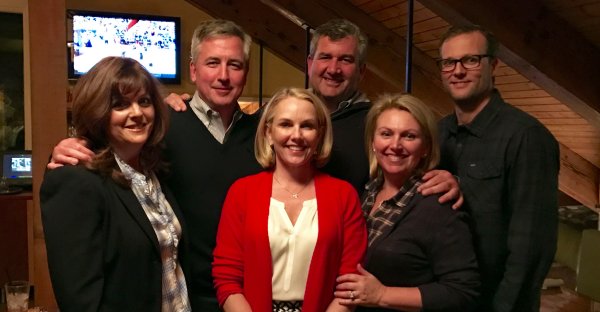 Pictured at the check distribution ceremony are (back row from left) Sons Of Ireland board members: John Burgess, Joe Whalen, Mitch Martin (front row from left) Stephy's Place board members: Pat Wotton, Sheila Martello(founding director), Megan Pelino-Whalen